FIFPRO AFRICA APPROVES MOVE FOR MORE DIVERSITY AND INCLUSION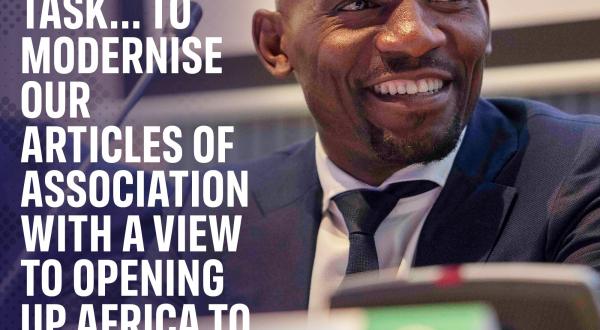 More than two years after its last continental meeting, FIFPRO Africa held its 2021 congress on Tuesday 27 July in Accra, with the participants physically present. The reunion was marked by the approval of its new articles of association.
Unanimously, but not without being discussed at length, the members of FIFPRO Africa adopted their new articles of association. The most important changes to the statutes are:
a requirement that each gender has at least two persons on the FIFPRO Africa board
an increase in the number of FIFPRO Africa representatives on FIFPRO's global board to two from one
a requirement that each gender has one representative on FIFPRO's global board from FIFPRO Africa.
"The discussions were rich and everyone participated calmly," said Geremi Njitap, FIFPRO Africa president and FIFPRO global board member. "The joy of finally meeting again, other than by means of a computer screen, created a special atmosphere all through the congress, but it did not distract us from our primary task: to amend our articles of association, in accordance with FIFPRO's wishes, to modernise them with a view to opening up Africa to diversity. It is a challenge, we are aware of this, but nothing is forbidden to us and the progress of footballers in Africa cannot be stopped.
"We held meetings on this topic with each member country to explain the reasons for the main changes and to clearly set out the objectives we wished to achieve. However, it was logical to once again seek everyone's opinion, to encourage people to speak out, and sometimes to remove any final doubts.
"By unanimously adopting these new articles of association, the strong gesture we have made is therefore the conclusion of a collective work, by which you will be able to enter a new era, an era of progress, an era marked by inclusion, an era in which the professionalism, the dynamism and the passion for our task can be expressed even more strongly.
"It is an asset we hold, all the more important as the health crisis continues its devastating effects, as precariousness is still gaining ground in many countries. We do not intend to let this happen without taking action. The example of FIFPRO and FIFA working together and, more often than not, in the same way in the interest of footballers and the general interest, can only inspire us at continental level and encourage us to develop our relations with the African football confederation (CAF) to a greater extent. At the end of June in Cairo, we heard and appreciated what was said by the general secretary of CAF, Veron Mosengo-Omba, who decided that the players must now have their rightful place and promised to consult us on major issues, such as the calendar and the creation of new competitions. It is not only in Europe that footballers are said to be overworked, and the vastness of Africa does not help; quite the contrary, since travelling eats into the necessary and obligatory rest periods and weakens the health of our players.
"This will be one of the priority topics we will introduce when we meet the new leaders of the CAF, hopefully in September. A few days before FIFPRO Africa meets for its 2021 Congress, an elective Congress that will once again provide evidence of the vitality of our member unions, their ability to defend the rights and interests of footballers but never forgetting to act on behalf of national and continental football.
"In Ghana, FIFPRO Africa has just demonstrated in the best possible way that it is on the move and fully united!"
FIFPRO Africa is one of four FIFPRO divisions, the others being Asia/Oceania, America and Europe. The division has 11 members (Botswana, Cameroon, DR Congo, Egypt, Gabon, Ghana, Kenya, Morocco, South Africa, Zambia and Zimbabwe) and is helping develop player organisations in several other countries who are aspiring to become a member.
Earlier this year, FIFPRO announced a series of steps towards more diversity in its governance by adopting new statutory commitments.