Legal
THE RED BUTTON APP EXPLAINED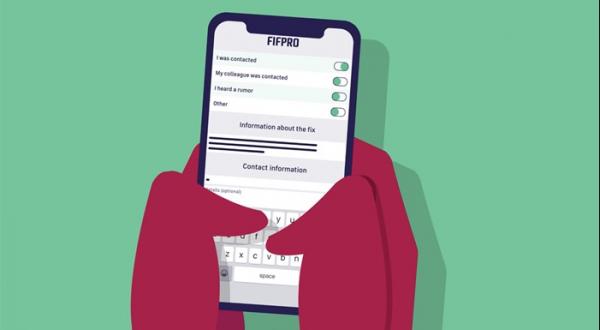 FIFPRO and its member unions around the world are distributing a smartphone app, called Red Button, to professional footballers to fight match-fixing.
Here's what you need to know.
WHAT IS THE RED BUTTON APP?
Red Button is a smartphone app wholly owned by FIFPRO which allows professional footballers to safely report match-fixing approaches.
WHO CAN USE THE RED BUTTON APP?
To protect the integrity of the Red Button app and the quality of the information, only professional footballers are allowed to download the app. The quality of information is highest when it comes directly from the person approached.
HOW DO I GET THE RED BUTTON APP?
From your national player association. During a team visit, they will enable you to download the Red Button app, using some safety measures. Once installed, you can use the app as many times as you want.
ARE THERE ALSO OTHER WAYS TO GET THE RED BUTTON APP?
No. To protect the integrity of the Red Button app, player associations will only distribute the cards to players personally. Cards will not be sent or distributed in any other way.
IS MY ANONYMITY GUARANTEED?
If you choose to use the Red Button app anonymously, then the recipient of your report will not know who you are. The only thing the recipient of your report will know is that you are a professional footballer.
HOW DO I USE THE RED BUTTON APP?
The app has a very clear and easy-to-use interface. Simply fill in all the fields. The app also gives you the possibility to add proof such as documents, photos, audio and video recordings.
In principle, each report is anonymous. There is a possibility to indicate that you can be contacted if investigators would like to obtain more information. This is voluntary.
CAN SOMEONE TELL FROM MY PHONE IF I HAVE USED THE RED BUTTON APP TO SEND A REPORT?
No. After submitting your report, the Red Button app ensures that no trace will be left on your smartphone. The Red Button app was among others tested by Interpol, whose experts were unable to hack it and obtain any information from it.
WHAT HAPPENS WITH MY REPORT?
In each country, the local player association together with security experts and FIFPRO has assessed which parties are the safest to receive the reports submitted with the Red Button app. These designated national authorities could include police and government anti-corruption units.
FIFPRO will also receive the submitted information, which FIFPRO can decide to share with the FIFA Integrity department for an investigation.