Zimbabweans meet to bring joy to the nation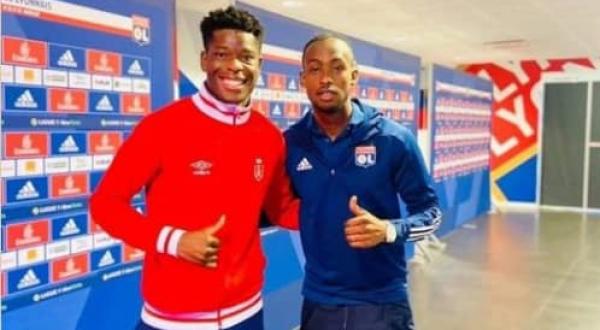 Tino Kadewere is now playing in Lyon and Munetsi in Reims
Arrived quietly in the summer of 2019, Zimbabwean Marshall Munetsi has become a safe bet at the Stade de Reims when it comes to facing Olympique Lyonnais and reuniting with his compatriot Tino Kadewere, a childhood friend, on Friday. in French Ligue 1.
Able to evolve in defense and in the middle, the player who arrived from the Orlando Pirates (South African D1) took advantage of his versatility to establish himself as a framework in the eyes of Reims coach David Guion.
"He perfectly fulfills the role I wanted to give him by bringing his athleticism, his power and his state of mind," the technician, who has already used Munetsi 22 times this season, told AFP.
Sometimes in the middle, his favorite position, sometimes in the Reims rearguard, depending on the injuries and suspensions of the central hinge Wout Faes - Yunis Abdelhamid, Munetsi (24 years old) responds.
"When the coach gives me my chance, whatever the position, I have to give the best of myself. What matters above all is the group," assured AFP the Zimbabwean international athlete (1.87 m).
First between Zimbabweans…
"Beyond his versatility and his qualities as a footballer, he has an exemplary state of mind which allows him to progress, we can see it this season. For a coach, this boy, it is only fun" , praises his trainer.
Qualities that Munetsi says he draws from the education he received.
"My parents taught me to respect, help and love others. In sport, being a good teammate, a good person, it also helps a lot", considers the environment which recognizes having grown up in "a very educated family".
Started his career  in Zimbabwe, a country in southern Africa, where football is popular despite a modest national team (112th in the Fifa rankings), Munetsi regularly crossed paths with a certain Tinotenda Kadewere.
"He played for the nearby school, we often clashed and there was a certain rivalry between the two of us (laughs)! But we quickly became good friends by finding ourselves in selection at the U17", says- he.
Tino Kadewere is now playing in Lyon and Munetsi in Reims. When the two players met last November (3-0 victory for Lyon), they could not hide their pride.
"We said to ourselves that we were marking the history of our country, welcomes the Rémois. It was the first time that two Zimbabwean players have faced each other in Europe."



"Give hope"



In selection, they also command the admiration of their partners, most of whom play in Africa or in minor European clubs. "We are always asked a lot of questions about life in Europe, about L1, about (Kylian) Mbappé," Munetsi laughs.



When he turned professional at 19 in South Africa, Munetsi wanted to give back to Zimbabwe what he had given him: "At the beginning, I was helping my brother and my sister. Then, I wanted to create my foundation."



Today, it finances the schooling of 60 children in Mabvuku, the suburb of the capital, Harare, where the player grew up. "Some young boys fall into drugs and some young girls are forcibly married instead of pursuing their studies or their career, it is all the more striking with the crisis we are going through. We are trying to help them, to give them hope, "Munetsi .



Thus, each month, the player devotes part of his salary to his foundation, supported by Unicef, despite the recent collective salary reduction granted by the staff of Reims, in order to help the club get through the crisis.



"The pandemic is a difficult time for everyone but we are privileged to be able to continue to play. We must bring hope and joy to others," concludes Marshall Munetsi.